Jacqueline Soares, Non Denominational Officiant
Beach Weddings

Memorial Officiant

Mobile Notary Services
I Do Today & Forever More
Wedding Officiant for Orange County and Greater Los Angeles area
| | |
| --- | --- |
| Posted on 31 December, 2014 at 14:36 | |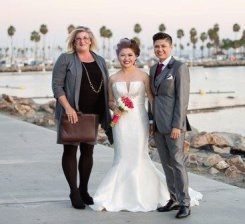 Continuing in the same theme as the last article about Fall Weddings, Winter Weddings can be some of the most enchanting wedding times. The weather is cooler, West Coast sunsets are more colorful , contrasted with clouds and soft oranges with hints of yellows and reds.
Keep this in mind when planning your wedding, often venues will discount their fees for off times and days, such as evening Fall Weddings.
This  Fall Wedding I had the honor to officiate was held on a Saturday's early evening in Long Beach, CA, at the foot of the Lighthouse in the Shoreline Park area. There were several weddings off and on through out the day.
My wedding couple opted to hold their small and quaint wedding at the base of the hill for several reasons. One, the lighting was best for the photographer, second, the back drop to the wedding pictures included artful angles of the lighthouse. Third, they easily turn after the wedding ceremony towards the lovely sunset (appx 4:30-5:00 p.m.) for final wedding shots.
Pictures were important to this couple and honestly they couldn't of chosen prettier backdrops for their pre and post wedding shots. Nature avails itself so lovely during winter's lighting.  This location also has the bay's backdrop, rocks to sit and pose on, the choices are endless.
Shoreline Park
is located off Ocean and Shoreline, by the Aquarium. There is limited no cost parking at the park and paid parking over by the Aquarium. (walking distance from the lighthouse location.)  You will need to check specifically with Long Beach Park and Recreation regarding larger weddings.
The Parker Lighthouse Restaurant
is a consideration for your after ceremony get together. Yet, there are numerous restaurants  located in this area with easy access, short drives.
Yes, Fall Weddings to say the least are some of my favorites. Do keep in mind that the days are shorter, cooler and can be quite chilly when planning a Fall Wedding, so instruct your guest to bring a coat or sweater to ward off the chill.
White, Greys, Silvers and a warm solid colors are great accents to your outdoor Fall Wedding.
Please do not hesitate to contact me at
[email protected]
if you have any questions regarding this particular location or you are searching for a wedding officiant. Jacqueline Soares 2014
/