Jacqueline Soares, Non Denominational Officiant
Beach Weddings

Memorial Officiant

Mobile Notary Services
I Do Today & Forever More
Wedding Officiant for Orange County and Greater Los Angeles area
| | |
| --- | --- |
| Posted on 28 October, 2014 at 15:38 | |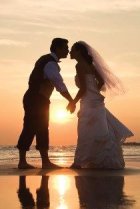 Your engaged, Congratulations, now onto the wedding planning 101. Typically brides default to a spring or summer wedding. Normally due to the weather and it has been traditional to do so. Yet, in California we normally have great weather year around. This lends itself  nicely for destination location weddings, in our falls and winters. Fall weddings are so beautiful and the surrounding venues can typically be less expensive (with  the exception of Christmas time.)
Many times our beaches are not thought of as Great Fall Wedding Locations because of the coolness, the early evenings or winds. Yet, do not discount them, for this can be one of the loveliest times of  the year to have a Beach Wedding.
Normally, beach towns/city halls cannot guarantee your specific location on their beach, especially closest to the piers (this can make for lovely and convenient back-drops for the after the ceremony photos), yet for example in October on a Sunday  you can normally find by 3:00 p.m., the crowds have thinned out and there are plenty of nice locations on the sand to set up for that wonderful wedding ceremony spot.
This past weekend I had the pleasure of officiating a wedding on the beach at 4:30 p.m., just outside of the pier's end. The guest along with the wedding couple could see the ocean ( very fitting since in their ceremony we talked about the waves), the sun had begun its downward shift (making for the perfect lighting for the ceremony and photos afterwards), the family /friends could stand close enough to hear everything being spoken and to the couples surprise they had a fan fare up above them on the pier (the claps and cheers went form 25 guest to 100 guest at the ceremony ended with , " you can now begin your journey as Husband and Wife with a Kiss").
It was wonderful, simple, elegant and affordable. 
Here are some links to surrounding beaches for your convenience and research:
If you have any question please call me directly at
714.625.7841
or email me at
[email protected]
I have had the honor and pleasure to perform numerous beach weddings and look forward to serving you. Jacqueline Soares, Wedding Officiant, non denominational minister since  2007.
/