Jacqueline Soares,

Non Denominational Officiant
I Do Today & Forever More
Officiant for Orange County and Greater Los Angeles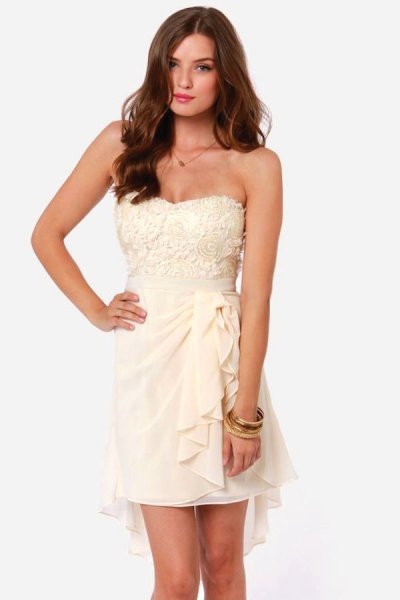 Engaged, setting the date, sendingt save the date, who will be in the wedding,  wedding dress, bridesmaid dresses, and the list goes on. You have decided on a beach wedding (so the look can be a bit more casual.)
So next , you have been  asked to be a brides maid at your family or friends wedding, the first thoughts for some is OOOOOOOOOO my another brides maid dress. Commonly these days, more times than not,  you have been asked to expense your own dress, yet the bride has decided what she wants her maids to look like. It may be color or style or anything along these lines that determine what you have to choose from.
Often I've heard the discussion, "well I want something that I can wear again, not just another dress stuck in my wardrobe." Then of course there is the brides maid that been asked to be part of several different wedding through out the year, oh my how these darn dresses get expensive.
Here is an article by Kendel Maxwell, at independent writer for Wedding Wire.com, with suggestions for fun and flirty dresses that accommodate may body shapes and sizes.
The key in deciding dresses for your Maid of Honor or Brides Maids is a dress that compliments your day's look, the style can be worn by each of your chosen maids and lastly but kindly remember that is could be something that will be worn again.
Here is the link for Ms. Maxell's article: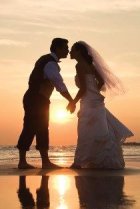 First and foremost, congratulations on your engagement, now onto the planning. There is the venue, the guest list, decorations, wedding party and more. Yet, for every bride there comes the real time decision regarding the "dress".
Our time is short, our lives are busy, yet every bride to be knows when she walks down that aisle all eyes are on her and the "dress".
I've attached a few suggested sites which could help with your search for the perfect dress for "you" and your bridesmaids: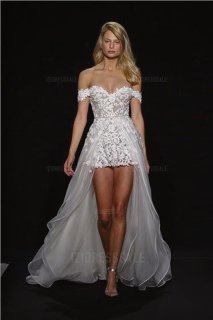 Weddings on the beach here in Southern California are throughout the year because weather always permits for a lovely morning rise, late afternoon breeze and evening sunsets (especially in the autumn and fall times) which add to your perfect day.
Recently officiated a beach wedding in Dana Point in the evening.
Beach weddings can be some of the simplest, affordable and yet elegant wedding in my experience.
I will post pictures soon.
Meanwhile, in this post I wish to focus of wedding dresses that lend themselves nicely to beach weddings. Leaving you with some sites to consider:

Visit for other suggested styles:
You've finally found a gown, but before you can breathe a huge sigh of relief, kick back and relax until your wedding day, you've got to find the final touch that will complete your transformation from basic to bride. It all comes down to choosing the right veil. Think the waltz is just a dance step? The chapel only a place to say your vows? Could it really be that easy? Check our glossary to find out.
Pouf
A gathered piece of tulle or netting that fastens to a comb or headpiece to create height for the veil.
Blusher
A short, single layer of veiling, the blusher is worn over the face before the ceremony, then either flipped over the head or removed thereafter.
Chapel
A formal veil that extends to the floor, the chapel falls two-and-a-half yards from the headpiece. It's often worn in combination with a sweep train and blusher for extra oomph.
Flyaway
A multi-layered veil that just brushes the shoulders. Considered less formal than other styles.
Cathedral
The mother of all veils, the cathedral is also the most formal. Sometimes referred to as the "royal veil," this style falls three-and-a-half yards from the headpiece.
Finger Tip
A very popular length, particularly with ball gowns, this style extends to -- you guessed it -- the fingertips.
Double Tier
A veil of two layers (either two veils or a veil and a blusher), usually of different lengths.
Flyaway
A multi-layered veil that just brushes the shoulders. Considered less formal than other styles.
Elbow
As the name implies, this type of veiling extends 25 inches in length to the bride's elbows.
Fountain
This veil is gathered at the crown of the head to create a cascading effect around the face. Usually of shoulder- or elbow-length.
Mantilla
A long, Spanish-style circular piece of lace that frames the face. Made either of lace or lace-edged tulle, the mantilla is usually secured with a comb.
Waltz (also known as Ballet)
A veil length that falls somewhere between the knee and the ankle.
Birdcage
Also known as a cage veil, Birdcage veils are typically a 9" piece of netting that drapes off the side of the head, which allows your lips to by free.
Pinterest and Brides.com have paired up for this article. It is a nice visual to help brides everywhere to understand based on their body style what dress style might work for them.
Finding the prefect dress can a taunting job for anyone especially a busy, full time working bride. So take a few minutes out of your busy schedule, kick your shoes off, grab a glass of wine (or your drink of choice) and view this link.
     The White Wedding Dress, it has been anticipated by you since you were a young girl. Images of long flowing, lacy, trailed white dress which will only be worn by you on your Wedding Day. Afterwards to be cleaned and stored till who knows when. The white wedding dress hasn't always been the tradition. Previous to the marriage of Queen Victoria to Prince Albert in 1840, it was not uncommon and more traditional to wear black or heavy brocaded fabric dresses. A bride's choice of colored wedding dresses are readily available and some will choose a color to break tradition, second marriage and bottom line they just feel prettier in a color verse the "traditional" white wedding dress.
     Skimming the articles for this 2014 wedding season, white on white for this summer is taking a new revival, leading me to this blog entry. Very often we are seek "tradition" without understanding where the "tradition" came from or feeling like we need to conform because it's "tradition" to so by choosing a white wedding dress.
      Previous to our times there were limited laundry techniques, laces, fabrics (especially the color of the fabics), obtaining fabrics from forgien regions  and the expense of the fabric, to list a few obstacles that the bride and the seamstress were challenged with when designing the "wedding dress". After Queen Victoria set predence with her long veil, trailed, lacy wedding dress, many American and European families of money saw this as a status symbol for the bride to be able to afford and wear a white dress on their wedding day. It was a way to show the bride's weath.
     Today, it has become a "Western wedding routine, especially in the Christian religious tradition.." .
     I think a bride should choose the best fitting color for her as a person, style and a expression of her personality. If white is all you have ever dreamed about then do it! Yet, remember traditions have always started somewhere for some reason and don't always match our understandings and beliefs for you today. This make us unique. So before you choose or settle for white at least try on a color, then make the final decision for you , White Wedding Dress or Not.
White Wedding
, on wikipedia has a great article on this subject (referencing the history of the white wedding day)
I always encourage your thoughts and comments, Jacqueline Soares
Idotoday wedding officiant.
/