Jacqueline Soares, Non Denominational Officiant
Beach Weddings

Memorial Officiant

Mobile Notary Services
I Do Today & Forever More
Wedding Officiant for Orange County and Greater Los Angeles area
The save the dates are in and the invitations on their way. In just a few short weeks, wedding season will be in full swing,
along with the stress
of the average $31,213 price tag for the happy couple and $592 average cost for guests. That's according to the annual wedding report from The Knot and a recent survey by American Express.
With weddings and pre-wedding events already crowding the planner pages of every other spring and summer weekend, it's time to
think budget
.
Every year, the same financial concerns come up, and despite the whispered misgivings of the budget-conscious and financially-strapped, the unreasonable wedding culture continues. Even the most grounded and low-key brides-to-be eventually fall prey to the hysteria of wedding mania, as the most frugal guests get caught up in unreasonable expectations and fears of violating misguided laws of etiquette.
Social, cultural and familial precedents, along with high emotions and unrealistic expectations set by media and pop culture, fuel the continuous escalation of a simple celebration into a high-cost, high-stress event.
What the wedding industry seems to be suffering from is a gross lack of perspective. Practices that are completely and entirely optional have become thought of as must-have staples, driving many couples either further into debt or farther from major financial goals such as buying a home or starting a family.
While every bride and groom will have his or her own priorities when it comes to planning the big day, it helps to start with the bare bones of what's required – a marriage license and officiant. Remembering that everything else is optional might help infuse a long overdue dose of reason into the wedding industry. 
Here are some prime examples of optional wedding rituals turned overblown staples that you might be better off without.
The engagement ring:
After the reception, the engagement ring is the second biggest wedding expense, coming in at an average of $5,598 in 2013. What couples seem to have forgotten is that it's the commitment to marry that makes them engaged, not the money spent on a piece of jewelry that will become redundant once wedding bands are exchanged. The standard three months' salary spent on a ring could be used to fund so many alternate, shared endeavors, such as furnishing a home or kick starting future college saving. Buying into an artificially controlled diamond supply will not make your love or relationship any more valuable, but it certainly can result in a significant hit to
your net worth
.
The pricey wedding dress. You don't have to skip the dress entirely, but you can certainly pass on the several thousand-dollar price tag. Wedding dresses are for one day only. Affordable alternatives can be found online, through resale sites and dress rental companies. You might even be able to borrow a dress from a family member or close friend.

Paper: It's the thick of the digital age and despite a slight decline in average spending on invites, the 2014 mean price tag still sat at $439. Given the ubiquity of digital correspondence, including five different pieces of paper in one invitation that already references an online website for more information seems awful wasteful, both financially and environmentally.

Pre-wedding events:
What started as a singular precursor to the big day has evolved into an engagement party, lingerie party, spa day, bachelorette party and goodness knows what else, each with its own set of commitments and fiscal expectations. The tab for these cumulative events tacked onto wedding day costs can easily soar into the hundreds if not
thousands of dollars
. Add to that a destination event, an increasingly common choice among couples, and you can pretty much count on kissing at least one of your personal financial goals goodbye.
Gifts: With so much spending required for guests to simply attend nuptial celebrations, a return to "presence as the present" might be in order. The $592 average cost of attendance doesn't even include gifts that often follow the misguided "cover the cost of your plate" myth – easily tacking on an extra hundred bucks or two. As the etiquette experts say, an invitation is not an invoice.Give in line with your budget and in a way that makes for you and your relationship with the happy couple.
A wedding is a celebration, and stressing over overblown costs is a total buzz kill. It's time to strip away the many so-called staples and
redefine weddings
, building from the ground up, prioritizing what's most important. While expectations and emotions run high, you can stay grounded in your fiscal reality by connecting with what's ultimately the most important part of your big day – your new relationship.
Stefanie O'Connell
is a New York City based actress and freelance writer. She chronicles her struggle to "live the dream" on a starving artists' budget at
thebrokeandbeautifullife.com
and her book, "The Broke and Beautiful Life," is now available.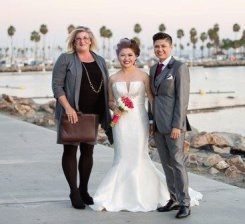 Continuing in the same theme as the last article about Fall Weddings, Winter Weddings can be some of the most enchanting wedding times. The weather is cooler, West Coast sunsets are more colorful , contrasted with clouds and soft oranges with hints of yellows and reds.
Keep this in mind when planning your wedding, often venues will discount their fees for off times and days, such as evening Fall Weddings.
This  Fall Wedding I had the honor to officiate was held on a Saturday's early evening in Long Beach, CA, at the foot of the Lighthouse in the Shoreline Park area. There were several weddings off and on through out the day.
My wedding couple opted to hold their small and quaint wedding at the base of the hill for several reasons. One, the lighting was best for the photographer, second, the back drop to the wedding pictures included artful angles of the lighthouse. Third, they easily turn after the wedding ceremony towards the lovely sunset (appx 4:30-5:00 p.m.) for final wedding shots.
Pictures were important to this couple and honestly they couldn't of chosen prettier backdrops for their pre and post wedding shots. Nature avails itself so lovely during winter's lighting.  This location also has the bay's backdrop, rocks to sit and pose on, the choices are endless.
Shoreline Park
is located off Ocean and Shoreline, by the Aquarium. There is limited no cost parking at the park and paid parking over by the Aquarium. (walking distance from the lighthouse location.)  You will need to check specifically with Long Beach Park and Recreation regarding larger weddings.
The Parker Lighthouse Restaurant
is a consideration for your after ceremony get together. Yet, there are numerous restaurants  located in this area with easy access, short drives.
Yes, Fall Weddings to say the least are some of my favorites. Do keep in mind that the days are shorter, cooler and can be quite chilly when planning a Fall Wedding, so instruct your guest to bring a coat or sweater to ward off the chill.
White, Greys, Silvers and a warm solid colors are great accents to your outdoor Fall Wedding.
Please do not hesitate to contact me at
[email protected]
if you have any questions regarding this particular location or you are searching for a wedding officiant. Jacqueline Soares 2014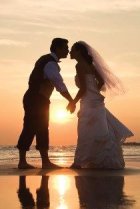 Your engaged, Congratulations, now onto the wedding planning 101. Typically brides default to a spring or summer wedding. Normally due to the weather and it has been traditional to do so. Yet, in California we normally have great weather year around. This lends itself  nicely for destination location weddings, in our falls and winters. Fall weddings are so beautiful and the surrounding venues can typically be less expensive (with  the exception of Christmas time.)




Many times our beaches are not thought of as Great Fall Wedding Locations because of the coolness, the early evenings or winds. Yet, do not discount them, for this can be one of the loveliest times of  the year to have a Beach Wedding.




Normally, beach towns/city halls cannot guarantee your specific location on their beach, especially closest to the piers (this can make for lovely and convenient back-drops for the after the ceremony photos), yet for example in October on a Sunday  you can normally find by 3:00 p.m., the crowds have thinned out and there are plenty of nice locations on the sand to set up for that wonderful wedding ceremony spot.




This past weekend I had the pleasure of officiating a wedding on the beach at 4:30 p.m., just outside of the pier's end. The guest along with the wedding couple could see the ocean ( very fitting since in their ceremony we talked about the waves), the sun had begun its downward shift (making for the perfect lighting for the ceremony and photos afterwards), the family /friends could stand close enough to hear everything being spoken and to the couples surprise they had a fan fare up above them on the pier (the claps and cheers went form 25 guest to 100 guest at the ceremony ended with , " you can now begin your journey as Husband and Wife with a Kiss").




It was wonderful, simple, elegant and affordable. 




Here are some links to surrounding beaches for your convenience and research:







If you have any question please call me directly at

714.625.7841

or email me at

[email protected]




I have had the honor and pleasure to perform numerous beach weddings and look forward to serving you. Jacqueline Soares, Wedding Officiant, non denominational minister since  2007.

     The White Wedding Dress, it has been anticipated by you since you were a young girl. Images of long flowing, lacy, trailed white dress which will only be worn by you on your Wedding Day. Afterwards to be cleaned and stored till who knows when. The white wedding dress hasn't always been the tradition. Previous to the marriage of Queen Victoria to Prince Albert in 1840, it was not uncommon and more traditional to wear black or heavy brocaded fabric dresses. A bride's choice of colored wedding dresses are readily available and some will choose a color to break tradition, second marriage and bottom line they just feel prettier in a color verse the "traditional" white wedding dress.

 

     Skimming the articles for this 2014 wedding season, white on white for this summer is taking a new revival, leading me to this blog entry. Very often we are seek "tradition" without understanding where the "tradition" came from or feeling like we need to conform because it's "tradition" to so by choosing a white wedding dress.

 

      Previous to our times there were limited laundry techniques, laces, fabrics (especially the color of the fabics), obtaining fabrics from forgien regions  and the expense of the fabric, to list a few obstacles that the bride and the seamstress were challenged with when designing the "wedding dress". After Queen Victoria set predence with her long veil, trailed, lacy wedding dress, many American and European families of money saw this as a status symbol for the bride to be able to afford and wear a white dress on their wedding day. It was a way to show the bride's weath.

 

     Today, it has become a "Western wedding routine, especially in the Christian religious tradition.." .

 

     I think a bride should choose the best fitting color for her as a person, style and a expression of her personality. If white is all you have ever dreamed about then do it! Yet, remember traditions have always started somewhere for some reason and don't always match our understandings and beliefs for you today. This make us unique. So before you choose or settle for white at least try on a color, then make the final decision for you , White Wedding Dress or Not.

 

White Wedding

, on wikipedia has a great article on this subject (referencing the history of the white wedding day)

 

I always encourage your thoughts and comments, Jacqueline Soares

Idotoday wedding officiant.

0

/