Jacqueline Soares, Non Denominational Officiant
Beach Weddings

Memorial Officiant

Mobile Notary Services
I Do Today & Forever More
Wedding Officiant for Orange County and Greater Los Angeles area
Gone is the day where 2,3,4 and more multiple tiered wedding cakes are your only solutions to the wedding day celebration cake.
this site has a lot of nice visuals to help you with ideas regarding displaying your cupcakes.
Pictures of Wedding Cupcakes (nice ideas)

Yes, the Wedding Shower Season is upon us, especially if your Bride/ Couple have a late spring, early summer wedding coming up. You, as a dear friend and/ or family member want and may feel responsible to hold a wonderful, lovely shower with Guest, Fun, Gifts, Elegant yet Affordable.
It use to take a lot more imagination and finances to pull off the most memorable shower your Bride/Couple will want to remember. Yet, in this day and age and by the grace of the internet, today there are so many great ideas out there to  help create that memorable day. Remember, utilizing these tips and tricks, along with delegating to others, who often would love to help with a piece of the shower yet don't have the time to pull the whole event off themselves (even if it is to borrow something they have that you need for this day) can be the difference of enjoying this journey or resenting it (counting the days till it's over).
From a small and intimate gathering to a larger one. With some good planning initially this day can even be enjoyable for you.

Below you will find some great short articles to assist you with the special day: 

How to throw a fiesta to remember—and keep your wallet intact
By Marisa Klein|

The Frugal Girls Blog
Heidi and Others
Written for Costco by Sharon Naylor
By Jacqueline Curtis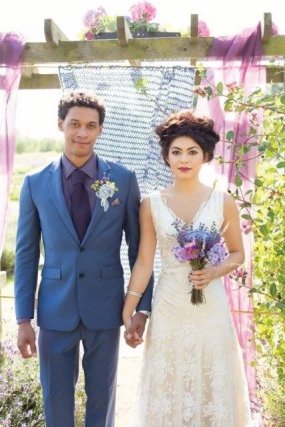 25 Lavender Wedding Details
Jordan Strohl, shares lavender wedding ideas. Lavender is a very calming color and fragrance, exactly what the doctor orders in the whirl spin of planning and finalizing your wedding day details.
From wedding day attire, table settings, cake and wedding party are included in Jordan's article.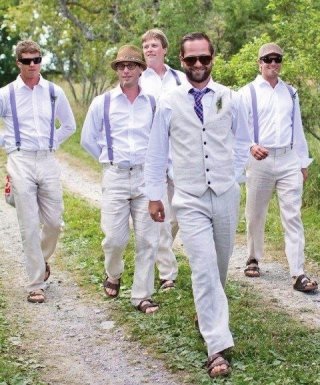 This is a great look for beach weddings.
I love this simple yet elegant idea using french maroons. They come in so many colors and can easily be  purchased at Costco.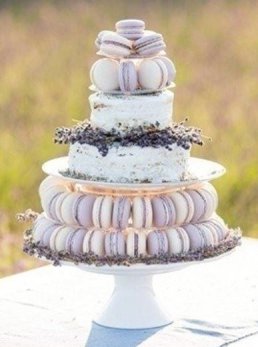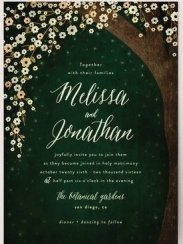 This is a lovely little article by Sarah Pierce featured on MyWedding.com
Emerald Green can such a classy beginning of spring look or late summer towards autumn.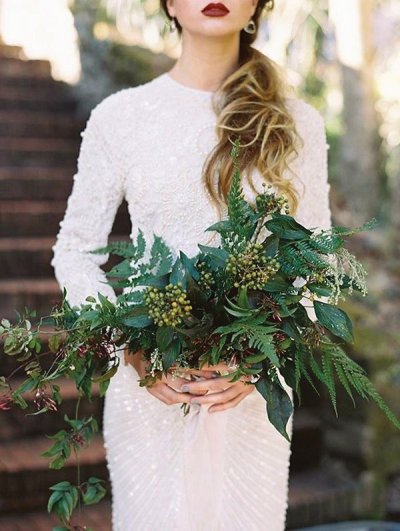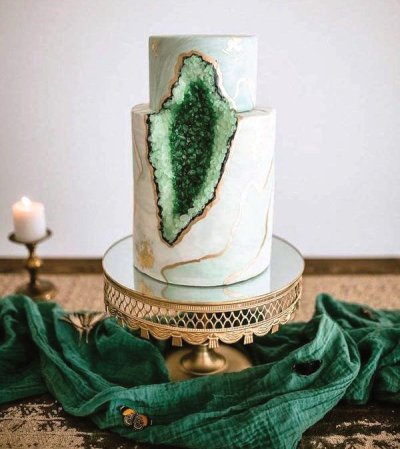 This weekend I was part of a speakeasy themed event and it was wonderful.  I will soon  post pictures from this event with more ideas, yet while I wait to gather them I wanted to suggest a theme that is perfect for  a small, intimate, elegant and affordable wedding (of course any theme normally  can translate to larger weddings with some adjustment.)

May I suggest a wonderful upcoming designer who was  the heart and soul of designing this event, Samantha Nowlin of  SIMPLELIFEDESIGN.COM.
With this said, in the meantime here are a few other sites  that will help you or your wedding team peculate on the wonderful concept of a Speakeasy, 1920's Gatsby themed wedding.
This theme lends itself well to budget weddings for many reasons. In our event we utilized others crystal dishes, furniture, etc before buying the remaining things.

This type of theme can be found in thrift store, flea markets and vintage sources because wear and tear is shabby chic !!!
More ideas coming soon on this idea.

Kathleen Dutka is the CEO and Founder of Lavish Candy, event planner, candy buffet designer. Their goal with Lavish Candy is to create excitement, fun and memories thru their candy buffet designs. In their candy buffets you will find that they are inspired by a brilliant fusion of color, flavor, design and nature.
Ashley Dutka is the candy buffet designer, graphic designer. She has designed for Lavish Candy since its origin. Her creative journey ranges from dramatic candy tablescapes to watercolors and sculpting. As an active participate in the restaurant & food preparation industry, she contribute new trends and ideas to Lavish Candy. Marshmallows, any size, flavor or color are my weakness.
Candy buffets are perfect for parties, weddings and corporate events. The sweet scent of sugar in the air is simply irresistible. Your eyes will sparkle with excitement with this sweet feast of colors and flavors. Candy buffets are a sweet and chic treat. This is a hot new trend taking over the spotlight at any party or event!
         Centerpieces can be very elaborate from the rented vase that stands 2 ft high with the flowers with designs of your choice, to the very simple yet elegant ones in which at the end of the eveing or the reception we give them away to one lucky guest at their table.
        I have experienced both styles and I'm always amazed on how inventive people  do get with their resources and creativity.
        Today I listed a few sights below to help the you in your search for the perfect centerpiece on your guest's tables:
TJ Designs (custom wine and bottle lights)
 

 

 

       

 

 

Your wedding day should be special, with family and friends gathered to help you celebrate, the ceremony reflecting your love and the reception providing a perfect finale.

The last thing you want to be thinking as you walk down the aisle, or as youand your new spouse dance the first dance at the reception is "how will we pay for this?" The time to answer that question is well before the big day.

Setting a

budget

 for your wedding from the very beginning will make it easier to plan an eventthat is within your means. Because getting married is such an exciting time inyour life, without a budget in mind, it is easy to overspend.

 

Is the perfect weddingdress $1,000 more than you thought it would be? Without a budget, you could convince yourself that you deserve to spend that extra cash instead of continuing the search for a more affordable yet lovely dress.

 

Likewise, without a budget, you might give in to your new in-laws' request to invite distant relatives andtheir children to the reception. Instead, you can simply say, "I'd love to, but our budget limits us to a small guest list."

To establish a budget, first figure out who is paying for what. Will either set of parents be pitching in, or will you and your future spouse be paying for theentire wedding? Then, come up with a dollar amount that is realistic based one veryone's contributions. On average, U.S. couples will spend $26,800 for their wedding - and that does not include the cost of the honeymoon, engagement ring,bridal consultant or wedding planner. The

reception

is the single largest expense.

Of course, there are many ways to trim costs; you just have to decide where you are willing to compromise. Can your mother help with the

planning

so you don'thave to pay a wedding planner? Is it really necessary to have an open bar at the reception? Do you really need a

limo

to drive you to the ceremony or can you get your rich uncle to drive you in his Mercedes?

"If you decide that you won't have enough money to pay for the wedding incash, or that your honeymoon must include a trip to Paris, you may have to get a loan or use your credit cards.

 

As long as you have a plan for paying off these large expenses, that's O.K.," says Maxine Sweet, vice president of public education for Experian, a global information solutions company. If you do decide to use credit, she suggests checking your creditreport before hand to make sure that you'll qualify for the credit when you need it.

If you and your spouse are paying for the wedding yourselves, another good incentive to stay on budget is the fact that you'll have other expenses once you're married. You may want to buy a house in the near future, or perhaps one of your cars is on its last legs. "You don't want to have a lot of debt from a wedding  if you plan on making a big purchase in the near future,"says Sweet. "Lenders review your credit report and credit score as part of the lending process and if they see that you are in debt close to your creditl imit, they may not extend you the funds needed for a new car or home."

Of course, planning your wedding and your future together isn't all about dollars and cents, but getting these matters out in the open can make for smoother sailing as you start your lives together.

 

 

 

About the Author...
For more information on checking your credit report, visit www.Experian.com.

Courtesy of ARA Content

 

 

What makes a wedding?

The right music

.

 

Music creates emotion; especiallyat weddings. Music (words and sounds) inspires more feeling, memories, andsentiment than any other expression. Everyone has, at some time, felt euphoricjoy or been moved to tears by certain songs. However music, along with food andother arrangements can be costly. The question is, then, how do you includemusic (and enhance feelings and memories) without stressing, and breaking the bank? Hint: smaller weddings, and combination wedding/music packages.

 

Wedding trends

 

A new trend in toward smaller, economical weddings is emerging. Why? The majority of people are

waiting longer before tying the knot

mostly for career and economic reasons.

[1]

The average age of a bride in the US now is 25.3 (27 for the Groom). Also,

one-thirdof those getting married each year have been married before

and therefore have already experienced large lavish weddings. What this translates to is a growing trend toward small to mid-sized affordable weddings that, yet, don't skimp on service and quality.

 

           

THE NEW MOVEMENT: a solo musician/vocalist

 

Other way to save money is to make appropriate music choices.Traditionally, there have been only two options for music: a live band or a DJ.Either of these can be appropriate depending on the

type of event you are planning

. Additionally, many high-end weddings use separate musicians for the

ceremony

,post-ceremony cocktails, and dinner/dance

reception

.The total costs for music alone (DJ or Musicians) can exceed

$4800

.

Why not have a single music resource for all of theseevent essentials?

 

Technology now allows a

solo musician-vocalist

to reproduce the sound and quality of a full band with the use of studio backing tracks (

video

). And, some professional soloists can also provide "Lite DJ" services for people who want awide selection of dinner & dance music without the thumping volume, fogl ighting, and conga-train dancing usually required at younger first-timeweddings.

 

Advantages

 

There are several benefits when opting for a solo musician/vocalist:

 

Less stress: You can work directly with one professional –communication and planning are easier

 

Logistics: music selection can be planned for the Ceremony (guest arrival, processional & recessional songs), cocktail reception, anddinner/dance or any combination. Sound systems and microphones can be easily moved or pre-positioned prior to the event.

 

Affordable: working with a professional soloist can save thousands in music expenses. For example, the cost for a ceremony, cocktail dinner, and dinner reception, can be under $1000.

 

How to save $$$

 

The average cost of a wedding used to be $20-30K. However, with the awful economy,everyone is looking for ways to save money while still creating their once-in-a-lifetime wedding experience. All this means that people are budgeting more, planning carefully, and, in many cases, opting for small to mid-sizeguest lists and facilities that offer ceremony/reception packages for theirwedding. The Advantages are many:

 

·      Smaller events require less work and less stress, the savings in lower "plate-counts"can be applied to other areas, e.g., to enhance food and beverage options

 

·      Music costs and arrangements can be made more efficient and easier (see below)

 

·      Fewer guestsallow for the marriage couple to choose popular ceremony/reception combination facilities where the ceremony and reception take place in one area.

 

For example, my own wedding was held at a lovely outdoor patio area at a country club. We had the ceremony and reception in the same place. Our guests didn't have to take a single step to relocate or gather their things to another area.  We saved thousands while everyone relaxed and enjoyed the event. 

 

There's no place like home

 

Another popular option is tohave the entire event at home (or at your friend's house with the beautiful view of the ocean). I personally have performed at dozen's of house-party events where catering, officiants (ministers), music, etc. are conveniently arranged and casually enjoyed.

 

Why should a loving couple be denied a wonderful event due to economic conditions? 

      

Economic conditions

 

Let's face it. Weddings canbe expensive. Many people just don't have a huge budget these days for such anevent. Worse yet, some start out their lives together by going into a financial hole because they feel they have to have extravagance for their family andfriends. Why should a loving couple be denied a wonderful event due to economic conditions?

 

Article submitted by DonCovel, owner of Don Covel Entertainment serving Orange County for over 20years. His warm guitar and smooth vocals are often compared to James Taylor. He also provides wedding music planning assistance including popular Lite DJservices for small to mid-sized weddings. Consider the above guidelines whenchoosing musical entertainment.

 

"As a guitar/vocal soloist musician, I provide my clients with a combination of classic rock and smooth jazz that is very popularat Orange County venues. All of this is enhanced with a full sound system and backing-track production. You are free to contact me personally for more music ideas at NO COST or OBLIGATION."

 

 

 

 

How a Wedding Professional Can Save You Money

 

 In the current economy wedding couple's budgets are gone over with a fine tooth comb. More and more brides are finding themselves doing all the planning, searching for vendors and negotiating in the hopes of staying within budget and saving money.

 

 

With all the information today on the internet it is true they can find many services and extras at bargain basement prices especially if they can plan for an off season event (traditionally weddings are held here onthe West Coast area April through September with June through September the busiest wedding season for vendors).

 

Yet let me pose some questions that may be often overlooked, what is your time worth, what is your peace of mine worth and how canan expert actually save me money? 

 

Your time is worth money right; here you spend your time efficiently with professionals who can share the most current wedding dresschoices based on your dream and body style. From the dress to the accessorythese professionals assist you every step of the way.  

 

These professionals come with their little (big) black notebooks full of vendors and ideas, saving you time and money (remembering your time has a price too) with referrals and recommendations of tried "other wedding and event specialist", now at your finger tips. 

 

Planners will take an assertive part yet gently guide you in understanding how your special day can become the beautiful reality from the best venue pricing to estimating guest count all the while keeping your budget in mind every step of the way. 

 

They offer Full Service plans which are perfect for the clientwith a fabulous vision, yet has a busy schedule that will not allow all the desired details to be handled without some assistance.  

 

Day of  The Wedding Coordination plan, for the bride "who has already planned the perfect event and would like to simply enjoy themselves having assurance that their plans and details will be carried out." 

 

For the bride who needs "A La Carte" services which again can also save you time and money in helping you to stay within your budget.These services can be picked from variety of task at an hourly rate.  

 

In closing, quoted by Alison Tomko from Alison ElizabethEvents, "Whether you would like a "little or "a lot" of help with your plans we are committed to helping make your "dream day" a reality." 

 

Event Coordinator's sites for your convenience: 

 

 

 

 

 

0

/